Eu te amo Brasil
Posted on 2010.11.27 at 17:47
Current Location:
Having the time of my life
Current Mood:
happy
You all know my Mom and Dad were in Brazil to film some scenes for 'The Twilight saga: Breaking Dawn', but what you didn't know is I was there too.

I arrived in Brazil a few days after Mom and Dad and was happy to see Mr. John when he picked me up at the airport.

While Mom and Dad were filming the street scene in Lapa I was supposed to stay by Mr. John because there were lots of extra people around and even a smart cat like me could very easily get lost or stepped on. I love Mr. John but I was a little upset because I wanted to be with Mom and Dad. I tried to be good, I really, really did but as soon as I spotted Mom and Dad standing in the middle of the street all cuddled together and kissing I bolted away from Mr. John to be with them. I don't think that dude Mr. Bill was very happy that I decided to join my parents or sit and watch them because he yelled "CUT!!" "Where did that damn cat come from?!" Mom and Dad explained that I belong to them, promised I wouldn't be ruining anymore takes and after scolding me and giving me a quick hug sent me back to sit on the sidelines with Mr. John.




The next day we took a helicopter and then a boat to a place called Paraty and I have to say it's one of the most beautiful places I've ever seen.





Paraty (or Parati) [pronounced Par-a-CHEE] is a preserved Portuguese colonial (1500-1822 and Brazilian Imperial (1822-1889) town. It is located on the Costa Verde (Green Coast), a lush, green corridor that runs along the coastline of the state of Rio de Janeiro, in Brazil.




The town is located on the Bay of Ilha Grande, which is dotted with many tropical islands. Rising up as high as 1,300 meters behind the town are tropical forests, mountains, and waterfalls. It is the southernmost and westernmost city in Rio de Janeiro state.


Paraty is surrounded by many parks and nature preserves, including Serra da Bocaina National Park, Serra do Mar State Park (of São Paulo), the Park Reserve of Joatinga and the Cairuçu Environmental Protection Area, where the village of Trindade is located. The municipality also includes an indigenous village and an Afro-Brazilian quilombo.

Paraty is known for the cobblestone-paved streets throughout the Historic Center District. No cars or trucks are allowed in this part of town, only foot traffic or bicycles. Motor vehicles are only allowed in the Historic District on Wednesdays for deliveries. Horses and carts are a very common sight in Paraty and are frequently used all around the city.





Paraty has been able to maintain many of its historic buildings. Much of the architecture of the city has not changed for 250 years or more.


After the discovery of the world's richest gold mines in 1696 in the mountains of Minas Gerais, Paraty became an export port for gold to Rio de Janeiro and from there on to Portugal. The ensuing gold rush led to the construction of the "Caminho do Ouro" or "Gold Trail", a 1200 kilometer road, paved in steep areas with large stones, which connected Paraty to Diamantina via Ouro Preto and Tiradentes. Not only was it used to transport gold to Paraty, but it was also used to convey supplies, miners and African slaves by mule train over the mountains to and from the gold mining areas. Two substantial sections of the Caminho do Ouro have been excavated near Paraty and are now a popular tourist destination for hiking.

Here I am on the "Gold Trail" resting while I wait for Mom, Dad and Mr. John to catch up. Mr. Dean took the picture. The other security dude who I call Mr. BakDaFukUp because he's always saying that to people who try to get close to my parents especially my Mom had the day off because he ate some food that didn't agree with him.




There are four important historic baroque churches in Paraty we visited Capela de Santa Rita which is the oldest church in Paraty. It was completed in 1722. This was the church of the white elite and freeman, former slaves. It is currently home to the Museum of Sacred Art.




We also visited Igreja de Nossa Senhora da Penha (Church of Our Lady of the Rock)





This church is unique because it's built on top of a huge boulder in the small hamlet of Penha, just outside Paraty. The church is located directly across from the Tourist Information Center at the trail-head of the Caminho do Ouro and is a beautiful sight to see.

There are two colonial forts in Paraty and also many colorful, colonial houses (refurbished in most cases), many of which have been transformed into shops, pousadas (Brazilian bed and breakfasts), restaurants and bars.





Paraty is also home to a unique phenomenon. Once a month when there is a Full Moon and the tide is high, seawater rises from its normal levels, and pours into the Historic Center District through special openings in the seawalls that separate the city from the harbor. The streets are only flooded for a short time, until the tide recedes. The water is usually only six to ten inches deep and a few merchants near the seawall put out small bridges to span the flooded streets for the benefit of pedestrians.


The place Mom, Dad and I stayed at was very nice. At night Mom and Dad usually played their guitars and sang together or Dad would play the piano and sing love songs to Mom that he wrote especially for her. I don't know what it was about Brazil but Mom and Dad spent more time in the room with the bed in it than ever before. Sometimes they got so loud yelling each others names, calling each other God and saying how much they love each other with strange deep voices like they couldn't breathe that I had to hide in a dresser drawer so I could sleep.

Every morning while Mom and Dad took long showers together I enjoyed my own bath in the fancy kitchen sink.

One day Mom and Dad got to feed dolphins and swim with them. I just watched because of some stupid dumb ass rule about no pets being allowed. Mom and Dad had an awesome time and it was funny because after spending a few minutes with my parents the dolphins started acting all lovey dovey and smoochy, smoochy just like them.
Mom and Dad filmed a waterfall scene and I helped out by climbing a tree and watching out for any fans or paparazzi trying to get on set. The waterfall looked like a fun place and I really wanted to play in it with Mom and Dad so during one of their breaks I begged them to let me join them but Dad said Mr. Bill wouldn't like that at all. I gave Mom and Dad my best pouty cat face so they promised once filming was done they'd let me check it out.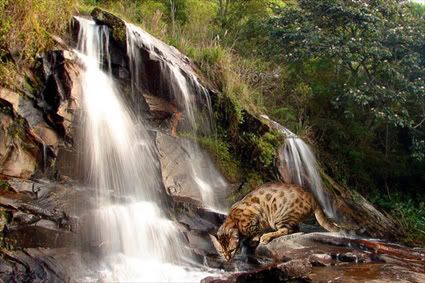 The waterfall was nice but I really had a blast when Mom, Dad and I went swimming. Dad and I liked jumping into the water making big splashes while Mom laughed at the funny faces we made. Dad threw Mom's bathing suit top on the deck and after that my parents spent the rest of our swimming time cuddling, kissing and dunking each other under the water.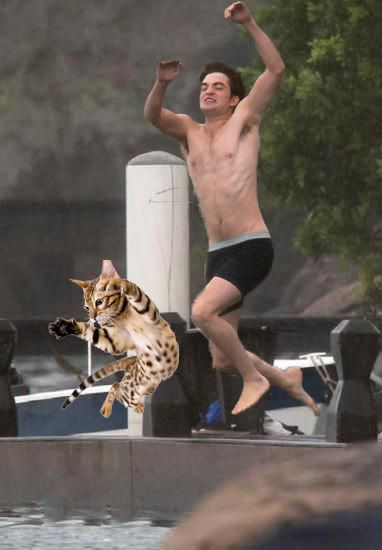 One of our last days in Brazil Mom and Dad filmed some scenes on the sand with a blanket, chess pieces and lots of kissing. Later they filmed a scene in a room with a bed. It looked like they were doing what they always do whenever they're in a room with a bed but this time there were lots of feathers flying around. My curiosity got the best of me and then Mr. Bill yelled "CUT!!" and got upset with me again.


I spent the rest of the day chillin with Mr. John who kept me happy by rubbing my belly, scratching behind my ears and spoiling me with cat treats.




Even though Mom and Dad went to Brazil for work I think they shared some of the best moments of their lives together there. I know for sure they were very, very happy and so was I.

Eu te amo Brasil (I Love You Brazil) Thank-You!!

Until next time,
~JSP

*Special Thanks to those who contributed or helped with photos*